Namaskar – It is a matter of pride, privilege and honour for one to have been elected unanimously and considered worthy for the post of President of Kashmir Sabha Kolkata, the position which I have been holding now from April 2018.
It is an occasion of pride and great pleasure to present the forty third Annual number of the "Vitasta" (2018-19) the official organ of our Kashmir Sabha, Kolkata.
This prestigious annual publication of ours is very much loved and cherished by our Kashmiri fraternity all over.
I thank each and every member of the editorial team of Vitasta Annual headed by Srimati Reena Dhar as editor, who have selflessly worked successfully to make this issue happen.
Our Kashmir Sabha Kolkata main focus is essentially on local priorities, those including holding almost every month gettogethers on all our Kashmiri Pandit festival days to preserve our cultural identity, providing substantial medical help to the deserving and needy Biradari members followed by educational help to a number of deserving students as per the recommendation by Kashmiri organisation mostly from Jammu and Delhi.
We are living in a world where survival is common. After meeting our social and cultural objectives, the predominant goal of our small society is to strive for the harmony of mankind as we have done so in the history. This is the most creative task before us. In this way, we could carry forward our cultural heritage further along new dimensions.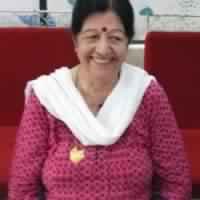 Organizing our main creative task, it is indeed exciting to be organising for a great creative effort and dream of a better world of today and tomorrow for us.
Our links with our ancestral heritage have to be strengthened through our cultural, social and creative activities. By every account it seems clear that there is a bright future waiting for our efforts. Since awareness has dawned on us to join together for progress and creativity and promote world harmony. We have sufficient intellectuals and material resources to be able to achieve a better world of today and tomorrow.
Kashmir Sabha Kolkata has not limited its role to celebrate the different festivals only but has lent full support in different fields whenever the community demanded it.
I am thankful to all our executive members of the Sabha for their best co-operation for the betterment of Sabha in all respects and feel proud of their team spirit always related to Kashmir Sabha Kolkata.
Wishing you all the best.
Bina Misri